With regards to space sparing in little houses, each square inch of room is key. Thus, pre-arranging assumes a vital part is greatest use of room.
Here Are 10 Space Saving Ideas For A Home:
1) It is a smart idea to use convertible furniture. A series of ottomans that can be joined to make a bed; a sofa that will convert to a bed for space saving in home.
2) Expand ability is another point to en-cash on. Design furniture so that it can be extended. For example. A center table that can open up to become big in size if required. A series of descending sized peg tables that are ducted together and can be pulled out to become 3 in number. A 4 seated dining that can be converted to a 6 seated on a simple pull of shelves.
3) Dig inside the wall. In a small house, it is a good idea to create smart niches inside the wall and put them to the utility. Instead of having an accessories shelves protruding from the wall, one can create the niche and utilize it for putting accessories, as shown in the picture.
4) It is always advisable to keep the floor area clean. This means, for example, you can hang a breakfast counter from the ceiling and keep bar stools beneath it, then occupying the floor area. This will make the room look visually bigger.
5) Incorporated storage where ever possible. A bay window can host set of drawers' up to sitting height and then have a cushion to form a sitting corner. Build the wardrobe from the flooring without leaving skirting and make a shoe drawer on the lower end. This will save you from wasting 4" of skirting area and also make space for all your shoes. Give storage in the bed, in the loft or wherever your house permits without adding a bulk visually.
6) Go vertical. Since a small house has a limited floor area, it is advisable to utilize the vertical space available. Cupboards to ceiling heights, bunk beds, tall standing wall cabinets; all work on the same principle. Also read: ideas for small kitchen
7) Sliding closets are unquestionably a space saver than contrasted with their open capable partners. To decrease the course space on the floor is a thumb govern to space sparing. Essentially, pressure driven open capable stockpiling in bed are superior to haul out drawers.
8) Put your partition to use by either making them storage or by using them as display cabinets. A little flexibility in your design will be of great help.
9) Use make-shift arrangements. This means instead of laying it in stone, think of material and ideas that can change with changing needs. A bedroom will convert into a home theater lounge with the simple use of sofa cum bed and camouflaging wardrobe with walls. Add a center table and switch on your projector to see a cricket match.
10) Last but not the least, organize your wardrobe. Utilize adornments like draw down holders, tie holders, belt drawers, pant haul out, separate drawers. The ability to hold stuff in the wake of utilizing these adornments increment multi overlay.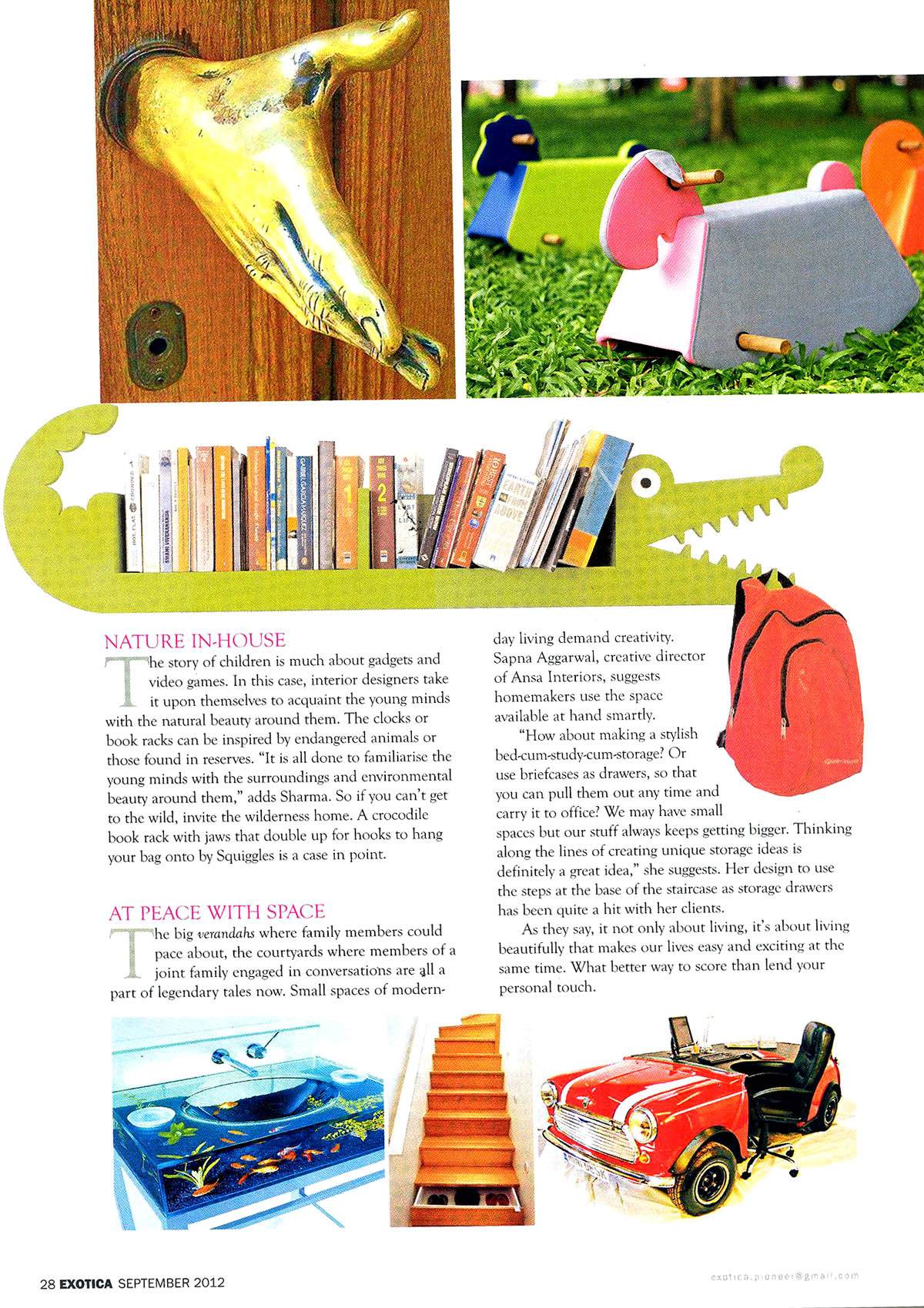 We hope our space saving ideas help you out! Call us for professional help!
This post was originally published in Exotica magazine by Ansa Interiors.