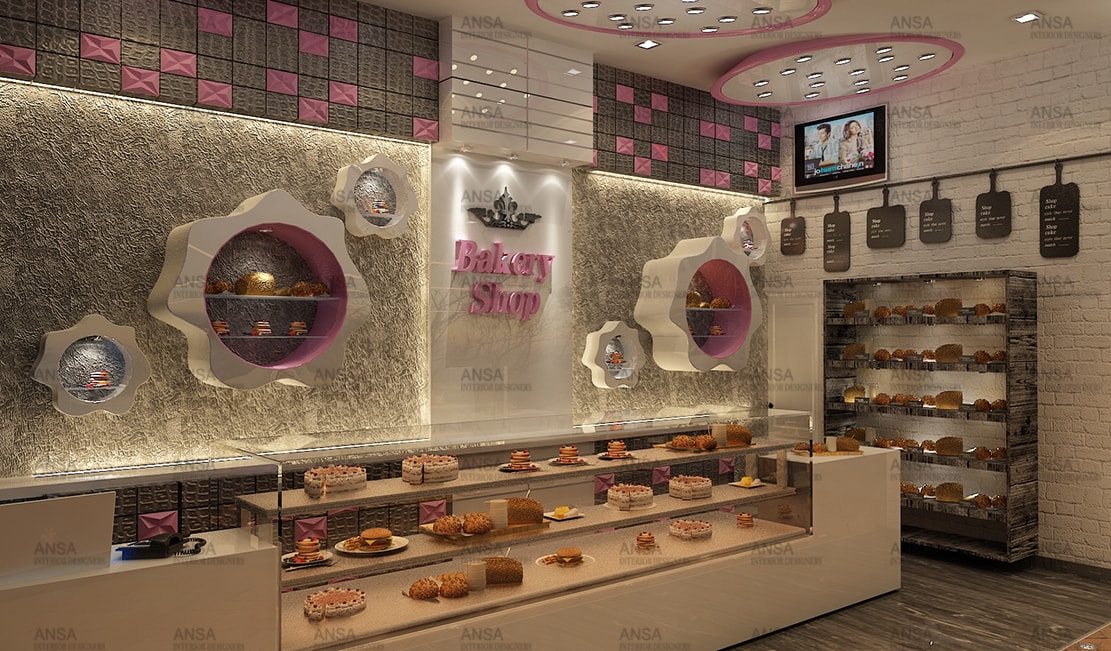 Bakery Shop Interior Design
The success of bakery shop would depend on the quality of product and ambiance.
The bakery shop interior design would add to the shopping experience for attracting more customers
.
Our surroundings send a message to our brain and decide how we react. To stand apart and stay competitive, you have to do things even if the product is same. A well-designed interior is your first marketing tactic to attract a customer. The shop in Pitampura is a corner shop with hardly 250 sq. ft. area. The basic step was to understand the goal, the target audience & the type of customers.
The seller want to sell puffs, pastries, and patties, hence required show window to display party themes
. The bakery did not have any cooking happening at the same place. It only required the re-heating equipment at that place.
The short-term plan was to sell bakery products and make a name in the market whereas long-term plan was to enter into parties
.
Space has to be design keeping proper movement space, and the theme desired.
The outside facade was design to look little European while the inside though simple had the fairy element
.
The choice of material, color, lighting, graphics, signage, artwork & display units all revolved around the same themes
.
The cash counter made at the beginning and camouflaged with display counter and the heating counter
.
A few display units will create in the back with floral shapes to highlight special products launched
. Pink and silver were infuse with white to create the desired fantasy look.
A small plasma add to run their presentation of party themes and new bakery products
. The menu on the front wall on a wrought iron bar in the form of boards that could be change anytime. The bread counter at the end made in an old ship wood to add the character.
The show windows acted as a display counter for party themes and new launches. Air curtain was provide to avoid air-conditioning loss. The brand name was infuse into the design to add a recall value.
The outer done in dark brown color with wrought iron corners and wrought iron lamp post to add a European character
. The outer space use for makes sitting and demarcated by a green patch.
The graphics of boxes to the menu card were design on the same theme. The lighting played an essential part in highlighting the focal areas.
The changing natural light at the changing day timings before selecting the light fixtures
. Music was integrate while the aroma of baked food flowed to attract the attention. The aim of making an enjoyable shopping experience selecting and buying will taken care all the time.